West Coast Diving 2007

I used to drive from Calgary to the west coast of BC once or twice a year on dive trips. Since I moved out here in the summer of 2006, all my shore dives seem like dive vacations, except a LOT cheaper! This is a log of some select dives and pictures from Vancouver Island for 2007, starting in June 2007 (after my Prism Rebreather course).
Tyee to Dolphin and Back Again (Dec 26, 2007)
AWESOME Boxing Day dive from Tyee to Dolphin and back again.
Geared up with Doug, did bubble checks and off we started. At the seahorse, turned left and headed off towards Dolphin, starting at 60 fsw, descending to 80 fsw. Followd first wall, then flat sandy area, then second wall, then second flat area and finally third wall (Dolphin). Along the way took some pictures of a small octo in it's den, then "granpa" wolf eel. Also got a few shots of a Peuget Sound King Crab. Swam about Dolphin wall for a bt, then at 40 mins turned the dive and headed back towards Tyee, passing the same features on the way back, but at 55 fsw. At the seahorse, turned toward home and headed in. Did 1 min stops at 40 fsw and 30 fsw, then 3 mins at 20 fsw. Took some photos of an octo during the stops as well.
Overall, and excellent 90 min dive. My new Sartek light (used, 21W HID) was flawless.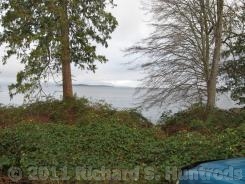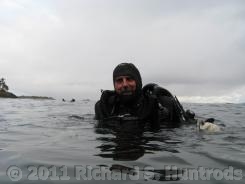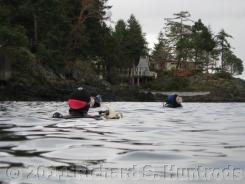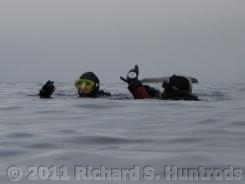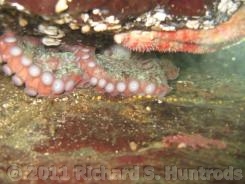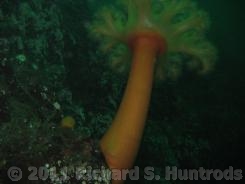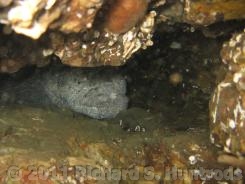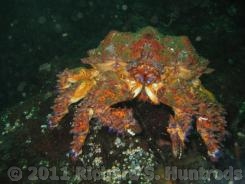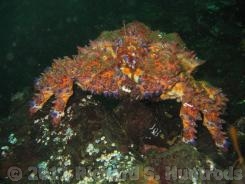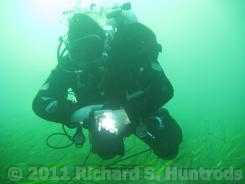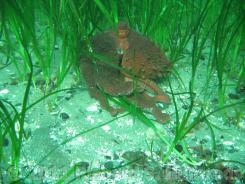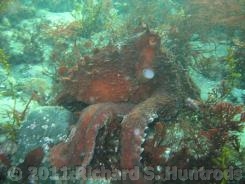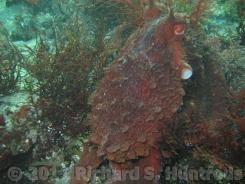 Tyee (Dec 15, 2007)

Skills dive today. Trying out new Greenforce Flexi II & HID-50 (10 watt), plus Canon A570 and Ikelite housing.

Geared up, down to water, eventually all ready to go. Filmed gear matching and bubble checks, then followed as divers descended to around 15 ft. for s-drills and valve drills. Then on to skills triangle, lots of lost masks!

Watched Glen retreive Dave's reel from the triangle and then in. Short but OK.

Greenforce HID stopped before the end of the dive. Not actually dead, but I didn't turn it enough to get it to refire until back at the surface. Will do burn test in water this week.

Today I also used my new Canon A570IS in the Ikelite housing, set to video mode to record the student's skills.
Tyee (Nov 18, 2007)



Training dive with Glen for his deco course. Started with trim and valve drills (for Glen) at 30 ft, then down to 80 ft past the sea-horse where Glen deployed his lift bag. Then slowly back to shore and more trim/buoyancy practice at 20 ft.

Unfortunately, my Halcyon light popped a clip sometime during the dive and had a partial canister flood. Enough to trash the battery pack, the connectors and the switch. Halcyon has changed the style of battery pack, so will have to rebuild it myself. In the meantime, perhaps a Greenforce!

No photos today - did not take the camera on the training dives.
Tyee (Nov 11, 2007)



Training dive #2 for Dave's Deco course. I'm acting as a spare set of eyes. Gear check and bubble check with Dave. Then down to 10ft to watch them do some valve drill and S drill. Then we descended to 100 ft. where I led them on a fast 5 min SAC swim. The group then headed to open water at 100ft to practice lift bag drills while I headed up to the seahorse. Then we all came back up to 30 ft for some more skills, then in. Pretty good dive, but I was not feeling well due to a stomach ache I had before the dive that became decidedly unpleasant after the vigorous swim at 100ft. No real problems, though. Garlic from garlic toast is not pleasant at 4ata!!!

No photos today - did not take the camera on the training dives.
Tyee (Nov 10, 2007)



Training dive #1 for Dave's Deco course. I'm acting as a spare set of eyes. RB briefing of other divers followed by gear check and bubble check. Then down to 20ft to watch them do some skills. I hung out on a rock ledge to stay out of the way. Then we descended to 100 ft. so they could perform a SAC reading (5 mins). Then back up to 30 ft for some more skills, then to 20 and more skill and finally in. Pretty good dive.

No photos today - did not take the camera on the training dives.
Fairwinds Marina (Oct 28, 2007)



Pumpkin carving at Fairwinds Marina. Short but fun dive. Dave T. held the light, I carved. We did not win.

No photos today - too busy carving the pumpkin.
Tyee (Oct 25, 2007)



Excellent dive today. Geared up, entered the water. We found the large octo, then found one of the wolf eels. At first I just spotted the tip of a tail, and thought it was a new (small) wolf eel, but a closer look showed it was the big fellow. Didn't see the head - all curled up in the burrow. Swam along the right wall, then back. On the way in, saw a small octo in a den as well.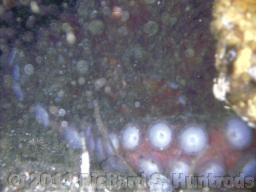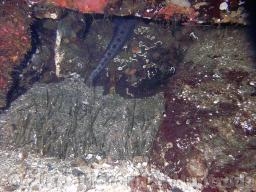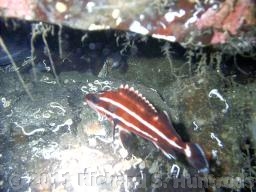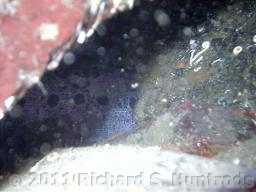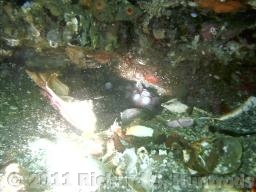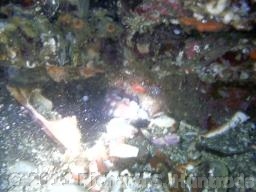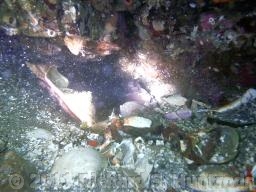 Tyee (Oct 21, 2007)



Very good dive. Hooked up with 4 divers while watching the classes of OW students from two dive shops by the shore. We geared up, then entered and descended. Started out deep, gradually rising as we traversed the right wall. Saw an octo but no wolf eels today. On the way back at 50 ft, saw a Puget Sound king crab - what a spectacular fellow!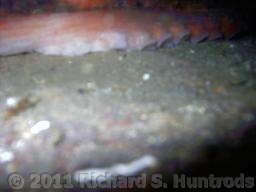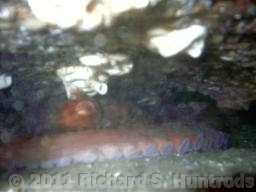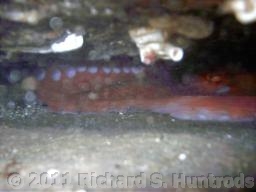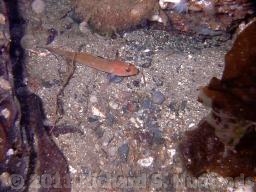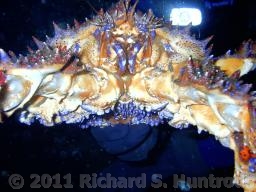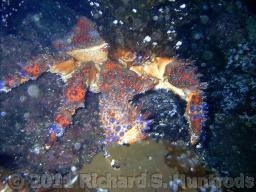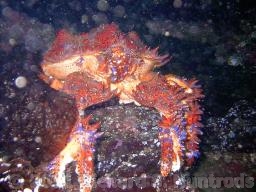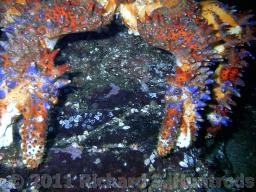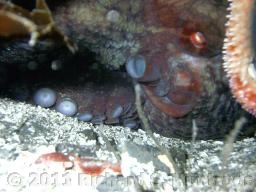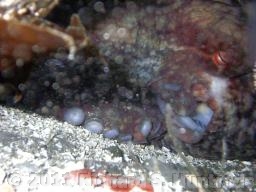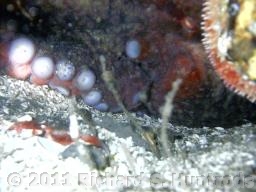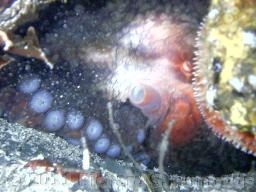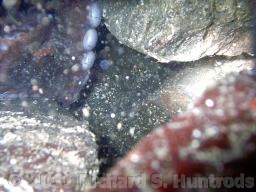 Tyee (Oct 14, 2007)



Pretty good dive. Dove with a group. Entered water, looked for and (eventually) found the octopus. Observed for several minutes, until group of arrived to view as well. Backed off, remained attentive of newer divers. Followed various groups of divers along right wall and back, eventually hanging out in the shallows.

No photos today - managed to jostle the camera setting while preparing the housing, so it was set on 'play' instead of 'take'. Sheesh.
Tyee (Oct 12, 2007)



Nice dive with new diver from Victoria. Entered water, down the V. Looked for the big octo, found him. Did not find the wolf eels today, but did go rather deep. Back up to 50 ft and along the wall, then back, looking at all the creatures. Excellent dive.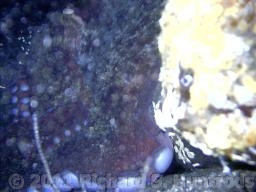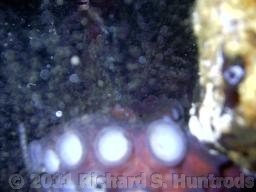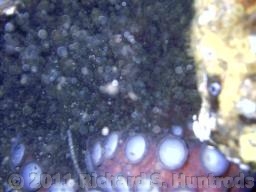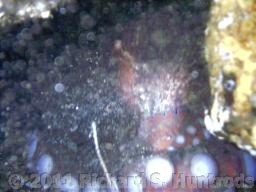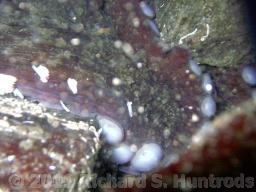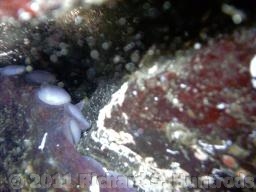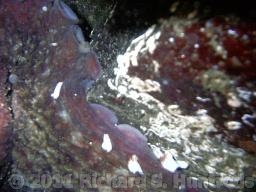 Tyee (Oct 3, 2007)



FANTASTIC DIVE!!!
Started with a bit of a problem - buddy had difficulty staying down. Rock in pocket fixed that. Down the V to look for the octo den. I saw a pair of colorful shrimp in an opening guarded by a small crab, then getting my camera I saw the octo in a den right below the shrimp. LARGE OCTO by the size of the mantle. Took lots of pictures, Julie gave octo some trout she brought from Mal. U.

Carried on to look for wolf eels and found them in their den. Big fellow was on lookout, lady hidden behind. Took pictures of these two as well. Then down to sand for a quick look for scallops - no dice. Back up to 50 ft, then back towards shore.

Right at the end of the dive I had a "burp" from my neck seal while dumping air from the suit - didn't seem to be a problem but after the dive I noticed that both legs were damp - the left leg was decidedly WET and it was salty (... no problem with the Pvalve, so it was ocean salt!). Will check for a leak but it may have been the seal burp that caused the problem.

Julie cut her suit on a rock and was flooded quite totally for much of the dive. We saw the water coming out of the cut in the suit lower leg when she surfaced, so an aquaseal patch in order there.

Otherwise, a fantastic dive.

Took lots of pictures today. One of me gearing up, then a couple of pictures of the shrimp, then lots of the octopus and then of the wolf eels. Three of the pictures have blue borders - if you click them you can see a larger version of the picture (the first one of me, one of the octo and one of the male wolf eel).

Still using PO2=1.3. Still happy with it.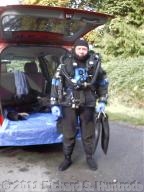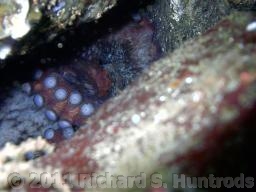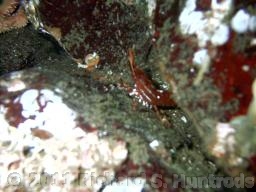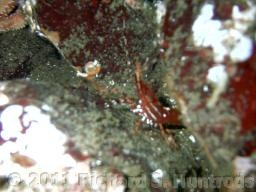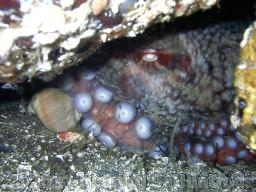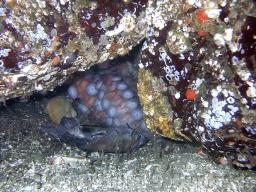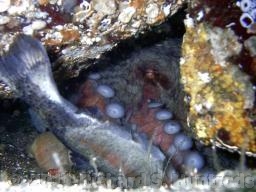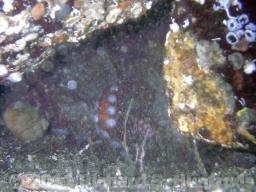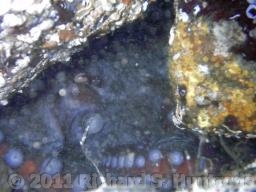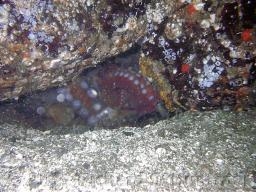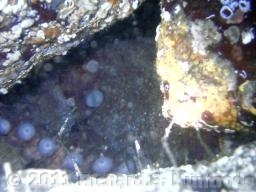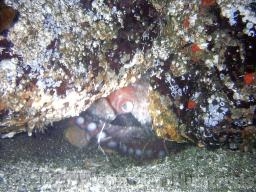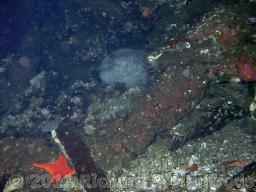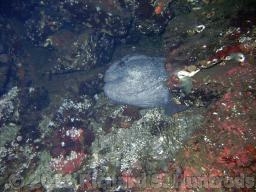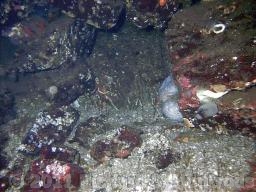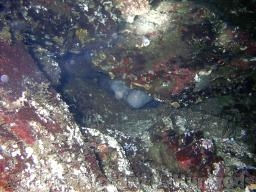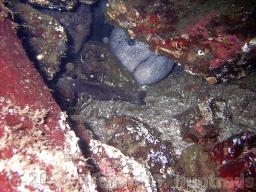 Maple Bay (Sept 22, 2007)



Very good dive today. Met up with Marilynn, Erin and Amber at the parking lot by the pub. Geared up, went in by the dock and surface swam to the end of the pier. Descended, found the line and headed out to the wall. Spent time exploring the wall, to end and back to the line, then up and over again. Returned on bearing, finding the line again just before the dock. Marilyn found some neat pottery discarded by boaters. Lots of starfish, some scallops.

Took just one picture of a nudibranch. Not centered in the frame well.

Still using PO2=1.3. Still happy with it.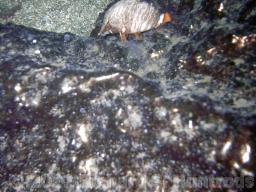 Madrona Point (Sept 13, 2007)



Very nice dive today. Geared up, entered water and did checks. Swam on bearing to start of deep wall, continued along wall (right) until 20ft past boot sponge. Looked in all the cracks for wolf eels, but nobody home today. After sponge, turned back and up to 50 ft for return to start of wall, then slowly back in. At 24ft, Julie found the octopus in it's den, so took a couple of pictures. Lots of silt in the octo pictures, but otherwise an excellent dive.

Still using PO2=1.3. Still happy with it.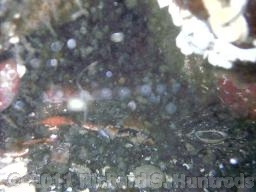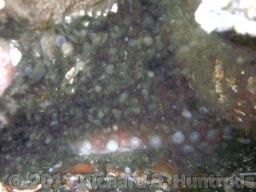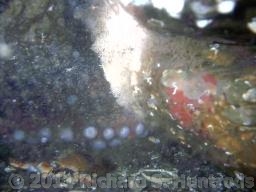 Tyee (Sept 12, 2007)



Nice dive today. Geared up in bright sunlight and warm temperatures. Entered water, did checks, swam to 80 ft to look for wolf eels. Found them, took some pictures. Then left across the entry "v" to look for the octopus I saw last week. No dice. Continued left to see what was around. It's a small wall, not very long, then the mud flat. Turned back to the right, continued past the "v" and up to see what was above the wall. Good dive.

I decided to switch the setpoint from 1.0 to 1.3 as that is what I have for constant PO2 deco tables; I want to see how this PO2 setting will perform w.r.t. O2 consumption. Overall, I was very happy with the setting and the O2 consumption.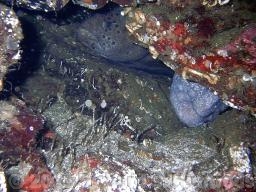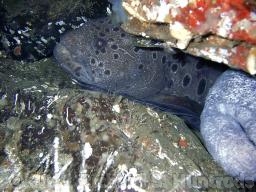 Madrona Point (Sept 05, 2007)



Evening dive that started quite well. Aaron and one other diver were there. We chatted and then geared up, entering at the big V. Immediate problems with the suit (see previous dive at Tyee), but determined that it was a stuck exhaust valve. Fixed it and immediate relief. Continued on to the wall, swam along the wall to the right until turn pressure (OC fellow). Returned to starting point on the wall, then began leisurly swim to shore. Quite strong surge, so we ended up a bit off course, surfacing near the shallow wall (far left of the big V).
Tyee (Sept 05, 2007)



Arrived for 10:30. Chatted (mostly about RB) and then geared up. Swam down to 80 ft, found the pair of wolf eels to the right. Took pictures, and apparently did not clip camera off properly. Swam along right wall until turn pressure, then returned at 50 ft. Started to return, but Patti wanted to explore left side a bit, so OK. Immediately she found an octopus in a den. The tentacles and suckers were fairly small, but the mantle was HUGE. I went to take a picture and discovered my camera was missing. Figuring it was lost, I turned to continue and looked down... 10 ft. below me, there was my camera bobbing on the bottom, tied to it's clip. I retreived the camera, but could not find the octopus again . We returned to shore, where a problem with my suit prevented me from venting the suit properly. Had MUCH difficulty with buoyancy in 20ft as a result.

The next dive (Madrona) revealed the problem to be a stuck exhaust valve. Clearing it solved the problem.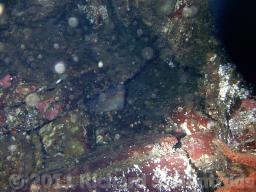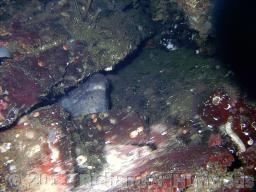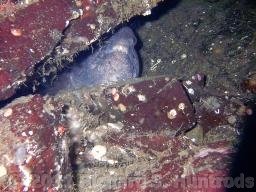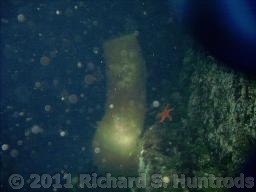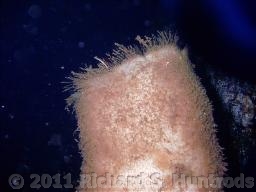 Tyee (Sept 01, 2007)



Julie, Glenn, Ashley and I met at Tyee for a morning dive. The tide was in, but the entry was excellent as usual. Glenn and Ashley were interested in seeing the wolf eels that we'd spotted on Wednesday. After gearing up and checks, we descended to 80 ft. with Julie in the lead. Just off to the right, among some large boulders we spotted the pair of wolf eels hanging out of their den. After spending time enjoying the wolf eels, we continued along the wall to the right, gradually ascending to 50 ft. as we turned for home. At 20 ft. Julie spotted an octopus in a den with a very small opening. You could just see the suckers through the opening. After the dive, we drove to the marina for a nice lunch and chat.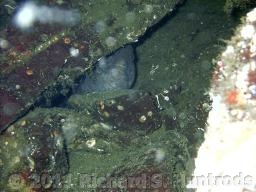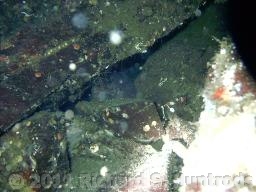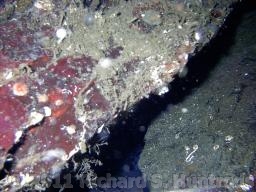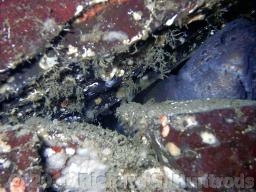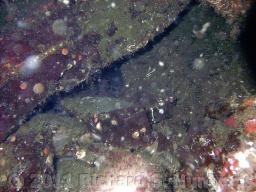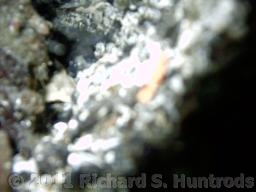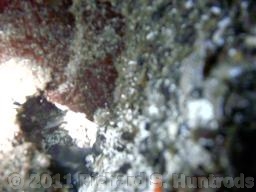 Here's a nice picture of me that Ashley snapped at 20ft. at the end of the dive.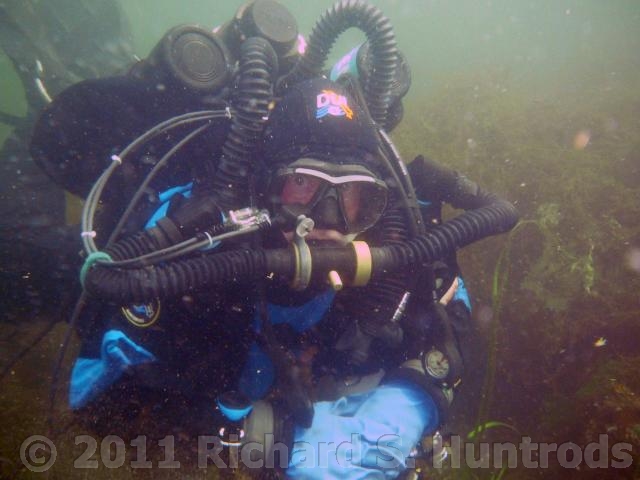 Tyee (August 29, 2007)



Excellent dive today. Geared up in bright sunlight, entered water; Julie to lead. Noticed dead small seal just at entrance floating in the water - not happy thing. Swam directly to 70 ft, turned right to look for the wolf eels that Shirley said were there. Found two wolf eels deep in a den, one side open on the right, one on the left (where their heads were). Took some pictures, then carried on. 20 min into the dive, Julie started up to 50 ft, I followed. Turned dive and headed back at about 40 ft, getting slowly shallower. Found gravel slide at exit, turned and headed in. At 20 ft. flew unit manually. Encountered a buncy of technical divers who pretty much mugged us with their jetfins as they lumbered over us to get down. Sheesh!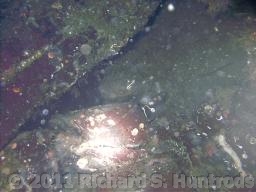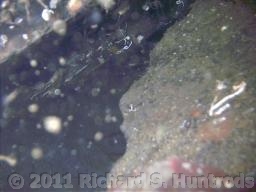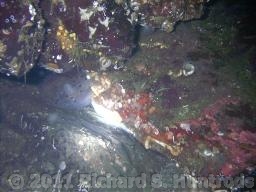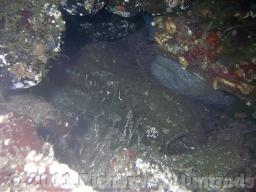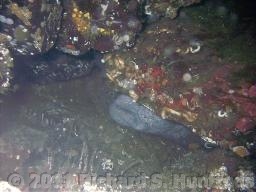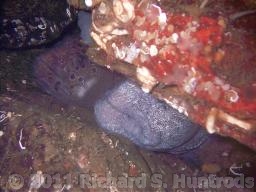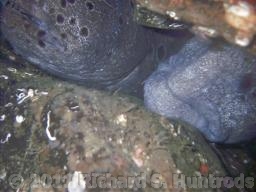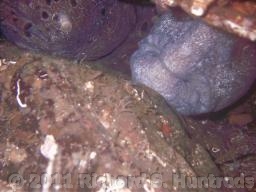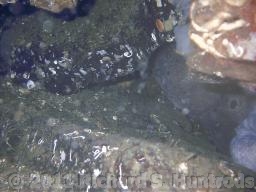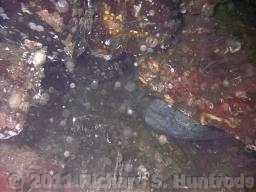 China Creek (August 20, 2007)



Surface swim to buoy, then dropped to stern deck. Swam down side to bow, saw big anchor, then turned and headed up other side, back to stern. Looked in holds and cabins (no penetration). Back at starn, dropped to view rudder and propeller, then along at 75 ft until we intersected the deck again, back up and over wheelhouse then back to stern and in.

Walked to cliffs along beach, then surface swim from 50 ft to cliffs. Descended, saw boats right away. Inside "barge" (or tugboat?) saw a small wolf eel. About the size of a juvenile, but full coloring (about 1.5" tall tail). Tried to take picture, but he was gone. Lots of cliff life.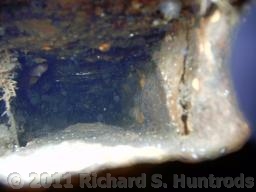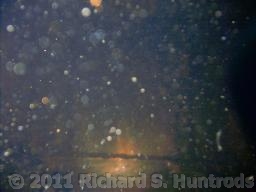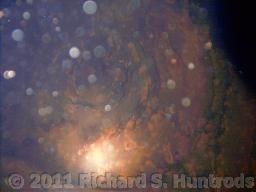 Maple Bay (August 15, 2007)



Group dive to Maple Bay - evening dive. Gave site layout and dive briefing to about 7 divers, including Steve & Shirley, Glenn & new several new divers. Great to see them out enjoying the ocean! Geared up, entered the water and surface swam to the end of the dock. Descended, then headed out on bearing for the wall. Found the wall, then turned the dive as divers were getting low on gas. Swam back to the dock and exited. The new divers had a great time, and everyone was excited to see the wall.
Ogden Point (August 14, 2007)



Ogden point dive. Geared up in hot sun, sweating hard. Entered via beach as it was total low tide. Surface swim to first corner, then descent. Surfaced to check position. Still a long way from second bend, so more surface swim (11 mins). Quite a surge, getting tired. Near second bend, descended. Current too strong - saw railroad track, but just not really possible to hang about. Turned and SPED from area. After a bit, rose to about 24 ft for much of the swim back. Eventually ascended and STILL far from entry point. A bit more diving, a bit more swimming - back OK. Not the best dive, that's for sure.
Coffin Point (August 9, 2007)



Evening dive, turned into night dive by the time it was done. Arrived at 7pm in fierce rainstorm, plus thunder and lightning. Waited 20 min, rain abated and lightning stopped, so geared up and entered the water. First time for me at full high tide - almost no beach (maybe 6'). All rocks underwater except about 2' of largest set. Took bearing and swam out the wall (right - SW) side. Lots of fun navigating the large boulders. Many times I could not go around but had to swim over a large set. Eventually found a wall to 44 ft, turned right (W) and headed along wall. Not much life - starfish and tons of 4-6" crabe, and lots of smaller rock cod and grunts. At end of wall, turned back and headed in at shallower (30') depth. Eventually went past wall and returned to shore on the "mud plain". Surfaced far E shore, swam back to entry point.
Maple Bay (August 6, 2007)



Met up with Julie at Maple Bay for 2:30 It was a nice sunny day, but quite windy at the dock. There were good whitecaps on the water. Tide was in, so not much beach and a lot of debris in the water near shore. After gearing up, we entered the water on the right side of the dock due to the debris. Vis was zero near shore, so we surface swam under the dock to the first boat, then descended. We did not find the line to the wall due to poor vis, but I took my bearing and we swam toward the wall, finding the rock field at 24 ft and eventually the wall at 50 ft. We traversed the wall to the right end (looking from shore) which is S, then turned (N) and retraced the wall to the line. We continued to traverse the wall, taking a shallower line each traverse until we were fully in the rock field. At 50 min we headed in as Julie was at her "head in" pressure, surfacing about 20ft from our entrance point. There was a definite thermocline at 24 ft. The water above was VERY warm. We saw lots of starfish, tons of smalller (>6") rockfish, lots of grunts and many crabs. I saw a pair of crabs fighting over a burrow, and a couple of grunt sculpins posturing at me to get away from them - mouths wide open and "standing" on their front fins. Quite cute, really. Took my camera, but not much for pictures.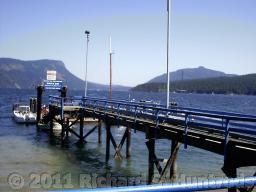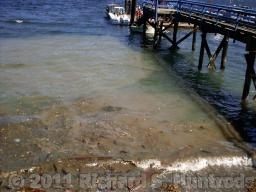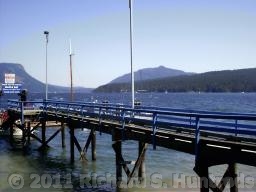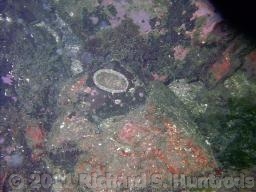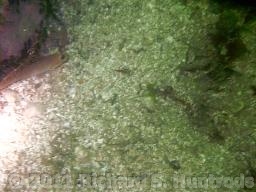 Ogden Point (July 25, 2007)



Today was Mike's last day with me. Since he had to meet his wife in Victoria in the afternoon, we decided to dive Ogden Point in Victoria. Nice drive AT the speed limit. Ample parking, 4 hrs for $2.00 as well. We parked just opposite the Ogden Point dive store. Turns out they are a halcyon dealer - very good news. Also a very nice store.

We checked out the entry. It was low tide, so the "step blocks" didn't get you all the way in. I decided to walk around to the beach and enter there. Glad I did - it was a very nice entry, though you did have to time things to greet the waves. I then swam over to Mike who had entered from the blocks to get my bailout.

We did our checks, then decended to 18 ft and started to swim along the wall. There are lots of rocks; the wall is very stepped due to it's construction. Lots of small caves for life. LOTS AND LOTS of large fish (ling cod for sure, maybe cabishons???). Swam for 1 hour, then turned the dive and headed back. The tide had come in, so exiting on the wall was OK, if a bit strenuous. Nice dive.
China Creek Beach (July 24, 2007)



Mike and I decided that we both really wanted to see that wreck of the "immigrant ship" at China Beach. The day before, after the dive we checked out the Bamfield Dive Shed in Port Alberni, where I obtained a replacement bulb for my 18W HID light. $221 for a field kit for the wrong canister, but correct head. Ouch! (the shop is apparently going out of business which is a shame - they are a relly good DIR/Halcyon store). While there, the store employee confirmed the location of the ship, but recommended a surface swim to the bouy as the best way to get there.

At the campsite, we geared up, entered the water (all at the same place and campsite), did our checks and proceeded to surface swim to the buoy - about 100 meters from shore. Once at the bouy, we decended and sure enough - we were on the stern of the ship at 50 ft! It's quite a large ship, lying upright on a very steep sandy slope. The stern deck is 50 ft. and the bow at 110 ft. on a very steep (60 degree) slope. This makes it quite a challenging wreck to dive. The sand at the stern is at 75 ft. The ship is totally intact, but very rusty. There are several cargo holds, all open, and some superstructure. We did not penetrate any of the superstructure, but I did enter the aft cargo hold to see the steering gear. Below, the rudder is heeled hard over, with the prop intact in it's shroud. Very cool! Mike and I swam all around the deck of the ship and had a good look.

After that, we dropped to the sand off the aft end and headed 90degrees to the wall. The swim took 10 minutes. The wall is quite shallow - about 24 ft. There we saw the two "other wrecks" - a small tugboat and a large blue rowboat type ship. After exploring the boats and the wall, we swam back (10 min) to our entry point and surfaced. All around excellent dive!
China Creek Beach (July 23, 2007)



Today we drove to China Beach, which is located outside Port Alberni on the gravel road to Bamfield. Our directions came from a trip made by the TDO divers and posted on their forum. The directions were good, with China Beach (marina & campground) located some 6km along a gravel road - a very rough road. Once there, we checked in at the office and proceeded to campsite 38 - NO CHARGE.

We quickly got the lay of the land, with the "immigrant ship" location at 180 from the campsite, and the wall off to the left. One very strange thing - there were hundreds of freshly dead herring washed up on shore (some even barely living in the water). The surface water is fresh, changing to salty at about 20 ft. with a definite halocline, so maybe they were chased into the fresh water and died? Anyway, quite a sight.

We geared up, entered the water and did our checks, then proceeded on a bearing to the wreck - or so we hoped. The TDO directions indicated 180 from shore, tied to a buoy. We werent' sure of the buoy, but headed out on the likely course. TDO directions also indicated the wreck started at 50 ft. and went down to 90 ftl. Unfortunately, my light was toast right from the start, so I had no light for the dive. We swam down a VERY steep sandy drop-off until we were below 90 ft, and did not find the wreck. We returned to 60 ft and turned to 90 (toward the wall) and swam for about 5-7 min. - no wreck. Then we reversed course to 270 and swam again for 10-15 min. - again no wreck. At this point we swam back to shallower water and came up to have a look around. We were WELL past our entry point, so returned to 25 ft and swam back to the entry point, then out.

Never did find the ship. UPDATE: Next dive we found it. The DECK is at 50 ft to 110 ft, but the hull rests on the sand at 75 ft. Swimming along at 60 ft one would NEVER find the wreck, especially with no light. Best guess - we probably swam within 20 ft. of the wreck on first recon, but with no light I didn't spot it.
Maple Bay (July 22, 2007)



We returned to my place after the Madrona dive, and checked out the units. We refilled the cylinders, then headed out to Maple Bay.

I *thought* I knew where the wall was, but while gearing up a fellow in a BC Ferries uniform drove up and chatted with us. Seems he's been diving the area for 20+ years, and was instrumental in "seeding" the wall with life back when. Anyway, I was out by 90 degrees on the location, so his advice was very appreciated. (I figured LEFT of the dock when it's actually RIGHT).

We entered, did our checks, then proceeded to the left side of the dock. From there, we took our bearing and started to look for the reef. Almost immediately I found a line running out in the same direction as my bearing, so I decided to follow it as long as it carried on in the same direction. It became obvious that it was intentional and permanent as it was placed through small cinder blocks every 20 ft. or so. Sure enough, it took us to the start of the reef at 50ft.

We turned right to follow the reef along, as it gradually became shallower. Reaching the end, we moved up and returned the same path. Eventually we reached the other end, and started to come back towards shore. This time I did not find the line, but had a good bearing to follow. Along the way back, I saw a 6 inch squid sitting on the bottom! It was quite alive and pure white. We watched the little fellow for quite a while, then carried on back to shore.
Madrona Point (July 22, 2007) - Dive holiday with Mike Burgess



Mike Burgess arrived yesterday afternoon for a couple of days diving with me while Sally visited her parents in Sannich.

We started the visit with Mike bringing me the SS backplate for the Prism that his buddy in Calgary built to his specifications - the same BP that he now has. Cost $325. Beautiful craftsmanship. We had to drill holes for the rubber bumper for the scrubber basket screws and then attach the basket bumber, but this was good. (we did lose two very old 1/8" taps in the process). After this, I rebuilt my rig and then predove the unit. Mike then predove his.

Additional gear change from previous dive (07/15/2007): Weighed the new backplate at 10lbs. This allowed complete removal of the weight belt (2 x 8lb = 16 lb). Instead, two 3lb weights were zip-tied to clips and clipped off in my suit pockets. The suit becomes a tad heavy on land, but is A-OK in the water. I *MAY* still be too buoyant. Also, I did NOT use the 2lb ankle weight. Overall: backplate = 10lbs + DSS adapter = 6 lbs + Halcyon BP = 6 lbs + keel weight = 6lbs ==> 10+6+6+6=28 lbs on backplate. Counterlungs = 2 x 2lbs = 4lbs. Pockets = 2 x 3lbs = 6lbs. TOTAL WEIGHTING = 28+4+6 = 38 lbs.

The next day (today as per this dive log), we started out the day with a drive to Madrona. After gearging up, we entered at the big V, and swam out to the mid wall. Once at the mid wall, we turned right (deeper) and headed along the mid wall, then to the deep wall and along the deep wall until about 10' past the boot sponge, where we found the lone wolf eel I'd seen before. At that point we turned and came back at a higher depth, looking for critters. We didn't see any more wolf eels or any octos this day however. Once we reached the same spot on the mid wall as where we enetered, we turned towards shore and headed in.

Mike took some video with his new camera - came out quite nice. All in all a good dive.
Maple Bay (July 15, 2007)



Dove Maple Bay - Dive #2 with Prism. Problem gearing up - band near neck of Airgon bottle came off; had to remove rig, fix and get geared up again. Walk + stairs to beach, did it with stage clipped on. Mucky entrance - boots sink in silt. Once fins on and ready, nice dive. Started near government wharf, Glen tied off hs new reel to the dock piling, then swam 100' to count fin kicks, then back. Always fun coming back shallow. Then out to middle of bay (to 75 ft).

First peak before 10 mins on profile is the fin kick stuff, then out to 45 ft looking for reef. Searched a bit, then continued deeper unitl turn pressure for gasmanX (using LP 95). Glen was in twinned lp 77's and OK on gas. Then leisurly swim back to 20 ft, where Glen and GMX surfaced. I stayed down but took out my SMB and inflated it at 15 ft. Then ended dive just having a nice rest with the rig.

New gear configuraton: 6lb keel weight zip-tied into backplate groove between the bolts, covered with the Halcyon cloth thing (bolts onto backplate). VERY NICE. Changed from 1lb in each counterlung to 2lbs in each counterlung, also NICE. Put 2lbs (ankle weight) in right pocket, clipped to the bungee. Weight belt had 2x8lb weights. MAY be slightly overweighted, not sure. I am sure I will be able to remove some weight after I'm more comfortable in the rig.

Overall, the rig was quite nice. Still not used to having the CL's "in my face", but getting used to it. CL's were not overfull at all during the dive, BUT the auto diluent addition is not working proplerly yet (more a fitting issue than any fault).
Madrona Point (June 24, 2007) - First dive on prism after certification.



First Prism rebreather diver after certification. I converted my Prism harness from the stock recreational BCD to technical harness (adapter plate, AGIR wing & backplate). Counterlungs MAY have been too high - will have to check this. Used 1lb soft weight in each CL, 16 lbs on weight belt. Too light. Clipped 2 x 4lb weights to bottom of harness - OK but not perfect. The under-the-counterlung rings seem awkward, especially the right one (light).

Short dive - 30 mins in bad vis. Missed the wall, turned the dive at 75 ft. when it was clear my D3 had died (battery). Passed right by large octopus on return trip - I saw the crab shells but missed the octo in his/her den. Julie saw the octo, though. Julie was collecting invertebrate samples (nudibranchs, sea cucumber) for the Malaspina aquarium.

Overall very good dive as I WAS able to trim out the new Prism-Tech harness OK and did have a good dive. Used too much O2, however (from 1500 to 500 in 30 min!). Setting 1.3